In the following example we are setting up a basic mesh network consisting of a single wired gateway PA1200 and a single PA1200 as a mesh node.
To begin you will need to login to https://console.plasmacloud.com If you don't already have an account on Plasma Cloud you can create one for free by clicking on the 'Register' link on the Log In page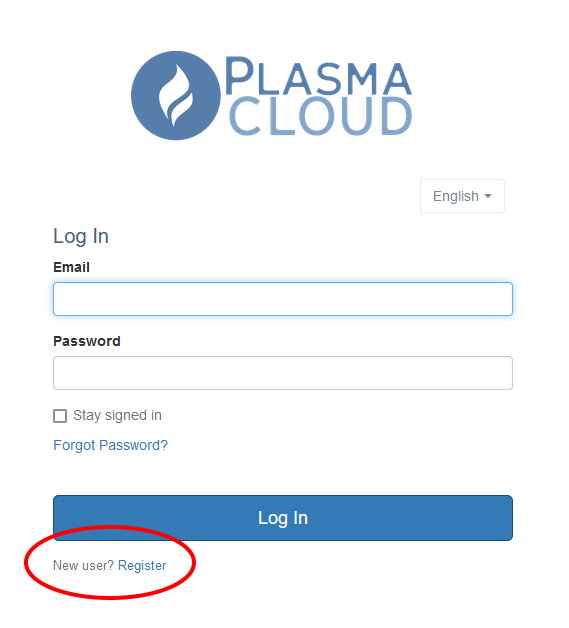 Once we have logged in, it is time to create our new Organisation by selecting 'Create an organisation' from the Organisations drop down in the top right hand corner of the Plasma Cloud console.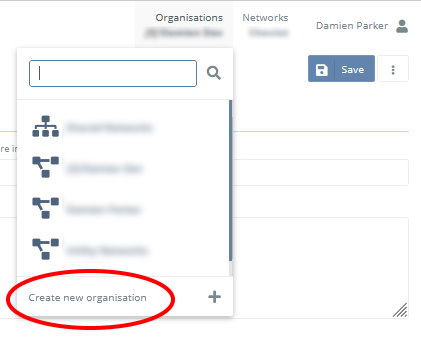 You will be asked for a name and description of your new Organisation.
The next step is to create your new network which we will be adding our access points to. Click on the 'Create new network' from the Networks drop down in the top right hand corner of the page.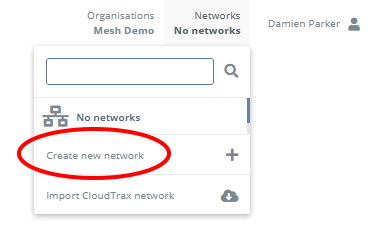 Once the network has been created we will add the access points and get them checking into Plasma Cloud, this will enable them to download their encrypted mesh key which allows then to securely mesh.
We can add the new access points by navigating to the 'Access Points' view via the menu on the left hand side of the page and then clicking on the '+ Add AP' button above the empty AP table.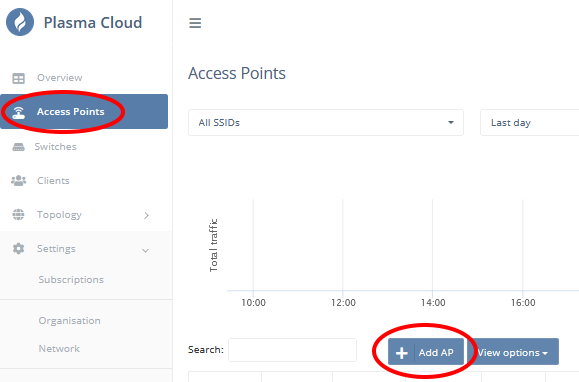 We will then be presented with a popup on the overview map where we are able to input our chosen name for the AP and the unique MAC address. Once we have clicked on the 'Create' button to add your first AP you will be able to click on the Overview map to place your next AP.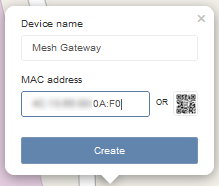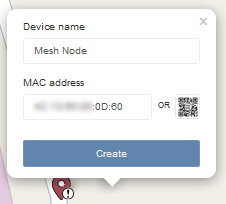 If we navigate back to the 'Access Points' view we can see that both of our APs have been added and will be showing as offline. We can now plug in the access points to a wired connection to allow them to check-in (make sure your connection has PoE or you have a suitable PSU handy).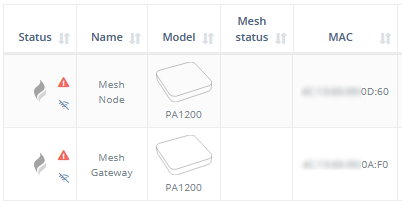 Whilst we are waiting for the access points to check-in and download their configuration we can go ahead and create our SSIDs by navigating to Settings > SSIDs and clicking on the 'Create new SSID' text.

We give the SSID a name, this will be what you see broadcast by the APs, and leave the option selected to 'Assign this SSID to all devices in this network' before clicking the 'Create' button.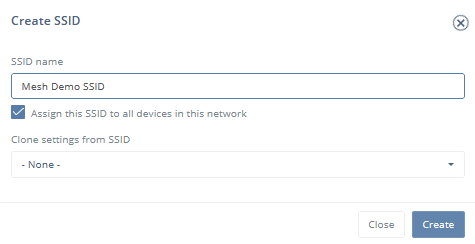 To make more changes to this SSID we can navigate to the SSID settings page to configure the Authentication, DNS, Client throttling, WiFi Scheduling etc. At the moment, for this example, we will leave those settings as default.
Once we can see that our APs are checking in, showing as being online (blue flame icon in the Status column, rather than grey) and the SSID being broadcast we can be sure that they have downloaded their configuration and we can now relocate our intended mesh node.

Before we unplug our mesh node to relocate it you will notice that the Mesh Status is displayed as 'Mesh Disabled' don't worry, this is part of the Plasma Cloud WiFi AI, if it detects that all APs in the network are able to communicate via it's wired connection it will disable the Mesh feature to reduce processor and memory overheads on the devices.
In this demo network it took roughly 10 minutes for our 'Mesh Gateway' AP status to change to 'Mesh Gateway' from 'Mesh Disabled' and a further 5 more minutes for our Mesh Node to check in as a 'Mesh AP'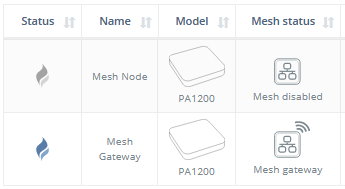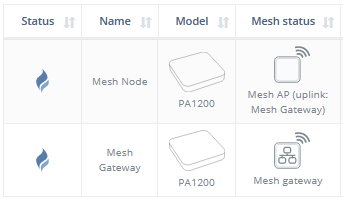 Once our mesh network has come online we can use the Mesh Topology view to see how which APs are forming our mesh and how well it is performing. In our example we have a simple network view of the single 'Mesh node' connected to a single 'Mesh Gateway' with a measured throughput displayed.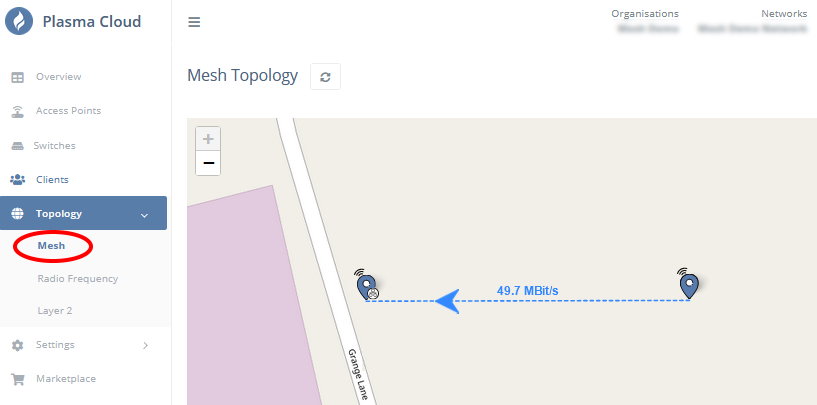 This view is ideal for debugging and troubleshooting. It can allow you to easily identify any mesh link with low throughput and any potential bottlenecks such as unwanted additional mesh hops. These additional mesh hops will cause lower throughput along the chain (the throughput is halved for each subsequent hop). Also, additional mesh nodes connected to single gateways will reduce the throughput, 4 mesh nodes would mean 1/4 of the total throughput being available per mesh node.